Aqua Gems Jewels
Where No Two Are Same and Each Piece is Only One in the World.
Precious Gemstones Australia Wide
Located in Perth, "AQUA GEMS JEWELS "is an Australia wide online Gems & Jewellery store with direct roots from Arusha, Tanzania .  ( One of the top  place of mining for  precious Gems ) providing Top quality  precious Gems & Jewels ,with specializing in Tanzanite , Tourmaline , Tsavorite and Rubies all  individually or as part of a jewellery piece with valuation certification.
AQUA GEMS JEWELS  has a wide variety of Loose Gems , Pendants, Earring, Bracelets, Stunning Rings and exclusive Sets made from rarest and most stupendous collection of  gems where the gemstone is the centerpiece.
Most of our styles are available for immediate shipment. In some cases, the items may have been sold out  or have become unavailable.  Should this happen, we will contact you to determine if you'd prefer to special order the item, or cancel your order.
View More

Buy Natural Gems Stones in Australia

The world of gemstones is incredible as they are naturally rich, rare, and extraordinarily enhance the look. Have you ever thought what makes gemstones so valuable that they are treated as treasures??

Since long ago in pages of history, you can find the love for gemstones by kings, queens, and other rich personalities. For these gemstones, a lot of time and effort goes in mining as these rare natural stones.

Rare Gemstone and Jewellery Dealer Australia

Aqua Gems Jewels is one of the trusted Gems precious stones and jewellery dealers in Australia with many years of experience in different countries. We are passionate about these rare, natural stones and have our business roots in East Africa and now getting them for you as individual gems and gemstone jewelry in Australia. We deal with the deeply rooted gemstone business houses in Tanzania, that has some of the oldest rocks which were formed many million years ago.

We understand your love for gems and gemstone jewelry, hence we handcraft each piece of Gemstone Jewelry with lot of compassion. Being one of the established family business owners of Gemstones in Tanzania and now in Australia we provide all most every type of these rarest and finest gems and gemstone jewelry. No matter whether you are looking for those exotic, natural purple tanzanite stones to be part of your jewelry or the passionate red ruby or beautiful tsavorite we have all stored for you.

Buy Loose Precious Gemstones in Australia

The test of Natural gemstone jewelry is high in quality in its resistance along with it getting precious by every passing day. The Gemstone Jewelry in Australia by us is to offer the best piece in high quality and finishing. Being one of the finest Gemstone Dealers in Australia we have a great aptitude to select amazing and exceptionally crafted gemstones to add richness to your wardrobe's jewelry collection.

Aqua Gems Jewels brings up to you a variety of beautiful iridescent rainbow-colored gemstones created by the opium effect. You can find our stones to be in different shapes and having thin refractive color layers due to which our gemstones can be cut perfectly to a Natural gemstone jewelry piece.

How these natural precious stones are evaluated?

These gemstones are evaluated by 4Cs;

#Clarity – clarity defines the quality of a natural gemstone. The exclusive rare gemstones are transparent, and crystal clear. They sparkle amazingly allowing the lights passing through it that gives a brilliant reflection. Sometimes due to holding some impurities the appearance of a gemstone gets a little less reflective. But it also means that they are pure and mined underground. That is the reason why star sapphires, pink diamonds, and rutilated quartz are more expensive for these inclusions. This inclusion helps to recognize natural stone and synthetically made stone.
#Colour – the intense bright colors make these natural stones more exclusive. Due to this color essence, emerald with a strong green color is one of the world's most valued stone. The next in row valuable stones are jade, turquoise, and lapis lazuli due to its rich green and blue colors. Colorless diamonds though have a great value, but from the diamond mining in Western Australia that produced pink or champagne-colored are more exclusive and increased value.
#Cut – Gemstones cut makes a lot of difference to its value as wrong cuts gives less sparkle to a gemstone.
#Carat – It refers to the weight of a gemstone that means the more carats are more valuable.
Each Gemstone is truly unique and these beautiful pieces will never be repeated.
Each Gemstone Has Its Own Story
There is something special about a natural gem stone and that beauty gets highlighted when transformed into a piece of jewelry,
When you purchase your new Gemstone, not only are you purchasing a value investment you are purchasing something so unique and beautiful that there is nothing else like it in the world.
From the moment your new collection arrives beautifully boxed you will fall in love.
@aqua_gems_jewels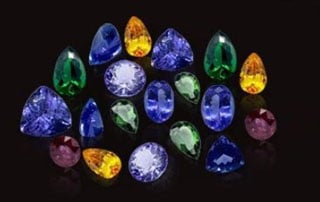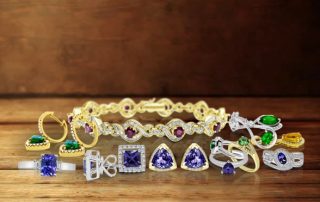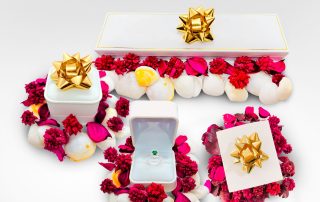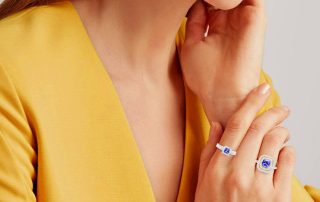 Disclaimer
Please be advised that colour variations will occur from what you view on the website to what you view in real life.  While we always aim to show a true and accurate image variations occur due to the different resolutions and brightness's on digital screens, such as computer screens, mobile phones and tablets.